PRODUCTS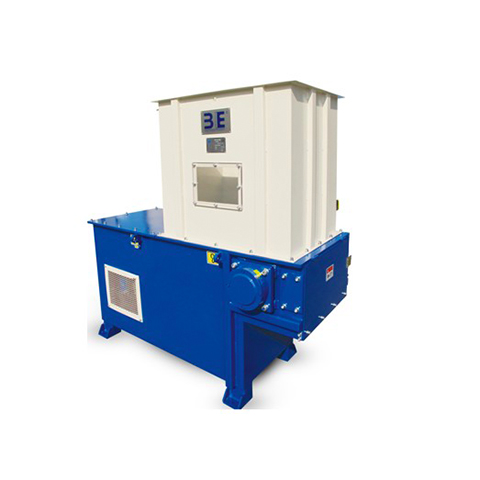 SINGLE SHAFT SHREDDER
Model: WT22-66 series
The WT series single shaft shredder is suitable for recycling wide range of materials. It is an ideal machine for plastic, paper, fiber, rubber, organic waste and a wide variety of materials. As per our customers' requirements, such as the input size of the material, capacity and the final output size etc, we could work out a suitable proposal for our clients. After being shredded by the machine, the output material could be used directly or go into the next step of size reduction. With the function of Siemens microcomputer control system, it is possible to control automatically start, stop, automatic reverse sensors to protect the machine against over loading and jamming.
MARKETS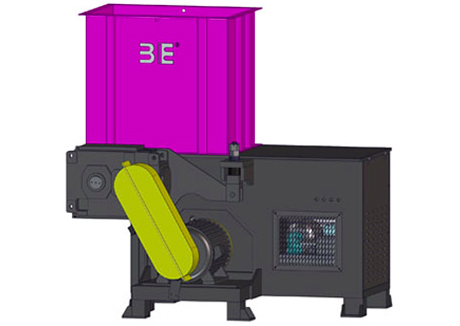 APPLICATIONS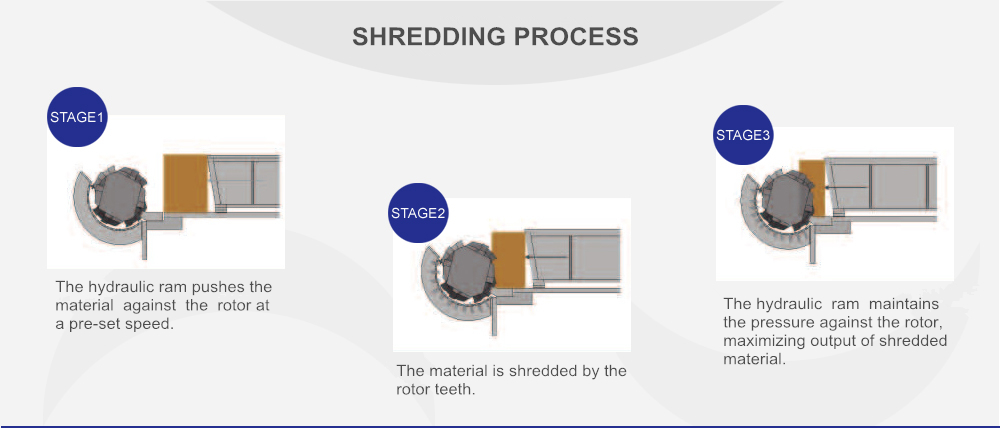 ROTOR
We can offer variety of rotor configurations to suit different applications.
High performance rotor

The rotor is our standard rotor, suitable for processing a wide range of materials at high speed. Materials include plastics, wood, paper, fibre, cable, etc.

Hard Material rotor

The rotor is designed specifically for processing hard materials such as ABC, PC, Nylon, etc. The blade holders are sub-set deeper into the shaft to reduce the impact on the blades and shaft.

Film Rotor

The rotor is designed specifically for processing films. Sub-set block blades in the shaft prevent film from wrapping around the rotor and hardox surface on the rotor protects the shaft against abrasion from sand and dirt.
SMALL SINGLE SHAFT SHREDDER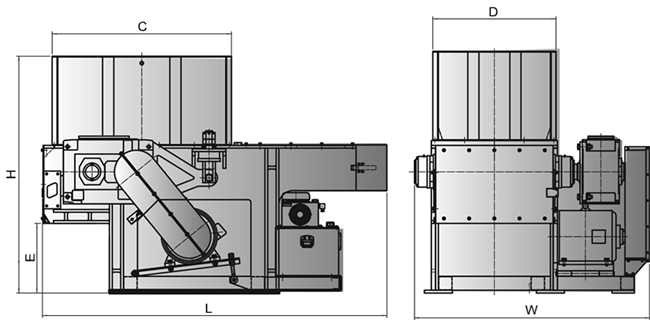 | Item Model | WT2250 | WT2260 | WT3060 | WT3080 |
| --- | --- | --- | --- | --- |
| Dimension L/W/H(mm) | 1780×1190×1754 | 1780×1190×1754 | 2455×1478×1700 | 2455×1478×1700 |
| Cutting Chamber C/D(mm) | 857×502 | 857×602 | 1200×600 | 1200×800 |
| Height of discharge port H(mm) | 546 | 546 | 500 | 500 |
| Cylinder Stroke (mm) | 500 | 500 | 750 | 750 |
| Rotor Diameter (mm) | φ224.7 | φ224.7 | φ300 | φ300 |
| Main Shaft Speed (r/min) | 83 | 83 | 83 | 83 |
| Screen Mesh (mm) | φ25 | φ25 | φ40 | φ40 |
| Rotor-knives(pcs) | 24+4 | 28+4 | 30+4 | 42+4 |
| Stator-knives (pcs) | 2+2 | 2+2 | 2 | 2 |
| Main Motor Power (kw) | 15 | 18.5 | 22 | 30 |
| Hydraulic Motor Power (kw) | 2.2 | 2.2 | 2.2 | 2.2 |
| Weight (kg) | 1300 | 1400 | 1550 | 1950 |
MEDIUM SHINGLE SHAFT SHREDDER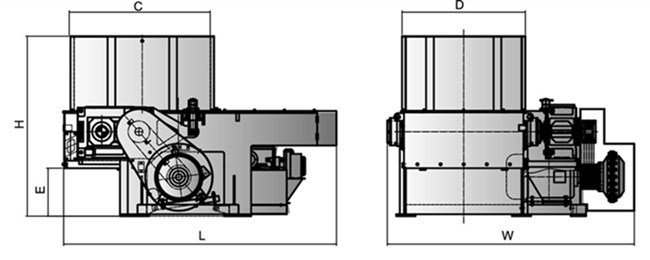 | Item Model | WT4080 | WT40100 | WT40120 | WT40150 |
| --- | --- | --- | --- | --- |
| Dimension L/W/H(mm) | 2825×1747×1875 | 2825×2004×1875 | 2825×2564×1875 | 2825×2964×1935 |
| Cutting Chamber C/D(mm) | 1410×800 | 1410×1000 | 1410×1200 | 1410×1500 |
| Height of discharge port E(mm) | 500 | 500 | 500 | 560 |
| Cylinder Stroke (mm) | 900 | 900 | 900 | 900 |
| Rotor Diameter (mm) | φ390.9 | φ390.3 | φ390.3 | φ390.3 |
| Main Shaft Speed (r/min) | 74 | 74 | 74 | 74 |
| Screen Mesh (mm) | φ40 | φ40 | φ40 | φ40 |
| Rotor-knives(pcs) | 42+4 | 54+4 | 66+4 | 90+4 |
| Stator-knives (pcs) | 2 | 2 | 2 | 3 |
| Main Motor Power (kw) | 37 | 45 | 55 | 75 |
| Hydraulic Motor Power (kw) | 2.2 | 2.2 | 5.5 | 5.5 |
| Weight (kg) | 3500 | 4000 | 5000 | 6200 |
| Item Model | WT48150 | WT48200 | WT48250 |
| --- | --- | --- | --- |
| Dimension L/W/H(mm) | 3135×2968×2105 | 3255×4415×2720 | 3255×4615×2720 |
| Cutting Chamber C/D(mm) | 1650×1500 | 1450×2000 | 1560×2500 |
| Height of discharge port E(mm) | 600 | 950 | 950 |
| Cylinder Stroke (mm) | 1000 | 950 | 950 |
| Rotor Diameter (mm) | φ464.8 | φ464.8 | φ464.8 |
| Main Shaft Speed (r/min) | 74 | 74 | 74 |
| Screen Mesh (mm) | φ40 | φ40 | φ40 |
| Rotor-knives(pcs) | 90+4 | 114+4 | 144+4 |
| Stator-knives (pcs) | 3 | 4 | 5 |
| Main Motor Power (kw) | 90 | 75+75 | 90+9 |
| Hydraulic Motor Power (kw) | 5.5 | 7.5 | 7.5 |
| Weight (kg) | 7800 | 10000 | 12000 |
HEAVY-DUTY SINGLE SHAFT SHREDDER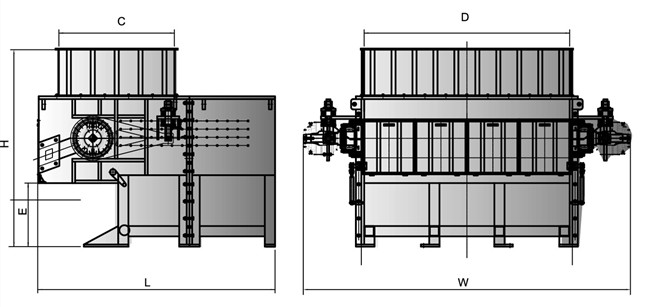 | Item Model | WT66150 | WT66200 | WT66250 | WT66300 | WT66400 |
| --- | --- | --- | --- | --- | --- |
| Dimension L/W/H(mm) | 4100×3450×3000 | 4100×3950×3000 | 4100×4450×3000 | 4100×6800×3000 | 4100×6800×3000 |
| Cutting Chamber C/D(mm) | 1885×1500 | 1885×2000 | 1885×2500 | 1855×3000 | 1855×4000 |
| Height of discharge port E(mm) | 1020 | 1020 | 1020 | 1020 | 1020 |
| Cylinder Stroke (mm) | 1000 | 1000 | 1000 | 1000 | 1000 |
| Rotor Diameter (mm) | φ660 | φ660 | φ660 | φ660 | φ660 |
| Main Shaft Speed (r/min) | 75 | 75 | 75 | 75 | 75 |
| Screen Mesh (mm) | φ40 | φ40 | φ40 | φ40 | φ40 |
| Rotor-knives(pcs) | 126+4 | 158+4 | 225+4 | 291+4 | 363+4 |
| Stator-knives (pcs) | 3 | 4 | 5 | 6 | 8 |
| Main Motor Power (kw) | 75+75 | 90+90 | 110+110 | 132+132 | 160+160 |
| Hydraulic Motor Power (kw) | 11 | 11 | 11 | 11 | 11 |
| Weight (kg) | 12100 | 12500 | 14200 | 15500 | 17500 |