PRODUCTS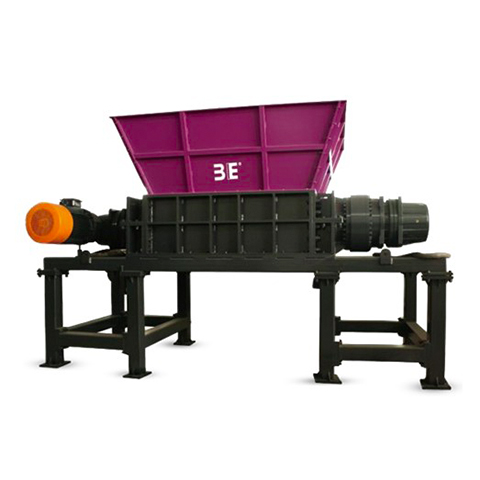 TWO SHAFT SHREDDER
Model: GL series
The GL series shredders have been designed for a wide array of applications and industries, suitable for shredding solid material such as E-waste, metal, wood, plastic, scrap tires, packaging barrel, pallets, etc. Depending on input material and the following process the shredded material can be used directly or go into the next step of size reduction. It is widely used in industry waste recycling, medical recycling, electronic recycling, pallet recycling, municipal solid waste recycling, plastic recycling, tire recycling, papermaking industry and etc.
MARKETS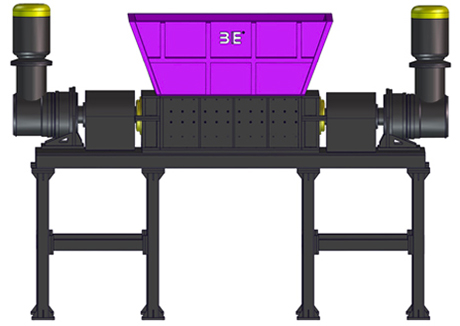 APPLICATIONS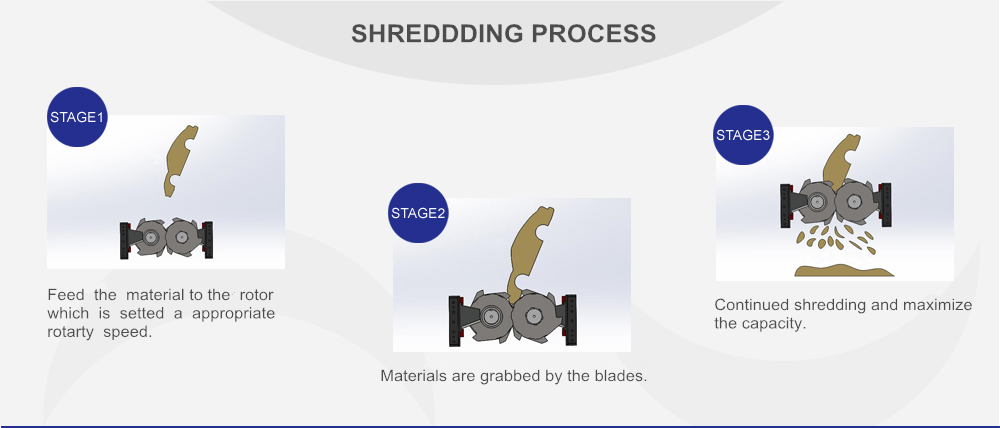 BLADES
We can offer variety of blades configurations to suit different applications.



Solid Blades

Use for shredding E-waste, rigid plastic, rubber,and all kinds of barrels, etc.




Assembling Blades

Use for shredding scrap metal and thick plastic, such as fridge shell, metal barrels and the thickness of materials more than 10 mm.




SW Blades

Suitable for various materials such as wood, aluminum engine casing and so on brittle materials.




VZ Blades

Suitable for thick materials such as baled aluminum, car shell, etc.




Special Blades

Use for shredding rigid plastic such as circuit board, the output size is less than 10 mm.




SPR Blades

Use for the solid waste per-shredding and break down packaging, the output size is less than 300mm.
SMALL TWO SHAFT SHREDDER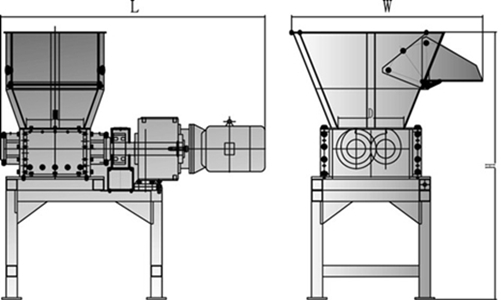 | Item Model | GL2130 | GL2140 | GL2160 | GL2180 |
| --- | --- | --- | --- | --- |
| Dimension L/W/H(mm) | 1210×1080×1840 | 1892×910×1911 | 2658×910×1911 | 3018×1367×1911 |
| Cutting chamber C/D(mm) | 300×430 | 410×470 | 610×470 | 910×470 |
| Rotor Diameter (mm) | φφ284 | φ284 | φ284 | φ284 |
| Blade quantity(pcs) | 15 | 20 | 30 | 40 |
| Blades thickness (mm) | 20 | 20 | 20 | 20 |
| Main Motor Power (kw) | 7.5 | 7.5 | 5.5+5.5 | 7.5+7.5 |
| Weight (kg) | 950 | 1500 | 2100 | 2400 |
MEDIUM TWO SHAFT SHREDDER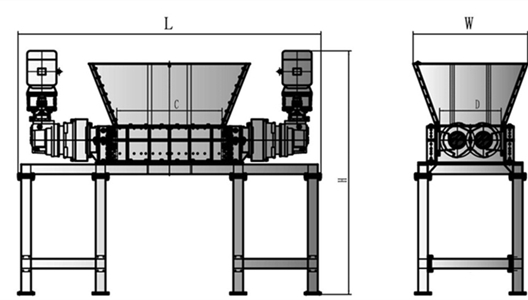 | Item Model | GL3280 | GL32100 | GL32120 | GL40100 | GL40130 | GL40160 |
| --- | --- | --- | --- | --- | --- | --- |
| Dimension L/W/H(mm) | 2940×1816×2270 | 3275×1946×2275 | 3416×1946×2275 | 3334×1866×2670 | 3716×2234×2670 | 4674×1770×3765 |
| Cutting chamber C/D(mm) | 812×736 | 1012×736 | 1213×736 | 984×948 | 1324×948 | 1624×948 |
| Rotor Diameter (mm) | φ430 | φ430 | φ430 | φ514 | φ514 | φ514 |
| Blade quantity (pcs) | 20 | 25 | 30 | 20 | 26 | 32 |
| Blades thickness (mm) | 40 | 40 | 40 | 50 | 50 | 50 |
| Main Motor Power (kw) | 15+15 | 22+22 | 22+22 | 37+37 | 45+45 | 45+45 |
| Weight (kg) | 3700 | 4100 | 4500 | 6500 | 8700 | 9200 |
HEAVY TOW SHAFT SHREDDER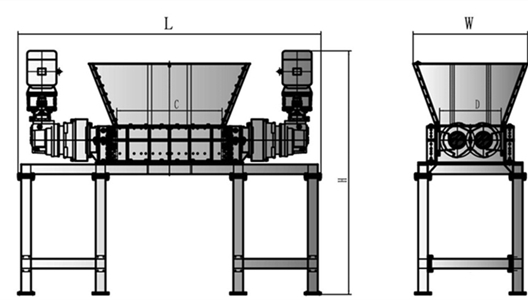 | Item Model | GL50130 | GL50180 | GL61180 | GL61210 |
| --- | --- | --- | --- | --- |
| Dimension L/W/H(mm) | 4187×2060×2702 | 5170×1866×3905 | 5404×2404×3746 | 5297×2714×3537 |
| Cutting chamber C/D(mm) | 1612×1006 | 1812×1206 | 1812×1490 | 2112×1510 |
| Rotor Diameter (mm) | φ650 | φ650 | φ800 | φ800 |
| Blade quantity (pcs) | 32 | 36 | 24 | 24 |
| Blades thickness (mm) | 50 | 50 | 75 | 75 |
| Main Motor Power (kw) | 55+55 | 55+55 | 75+75 | 90+90 |
| Weight (kg) | 12800 | 13600 | 20200 | 23200 |