SOLUTIONS
WASTE REFRIGERATOR RECYCLING PRODUCTION LINE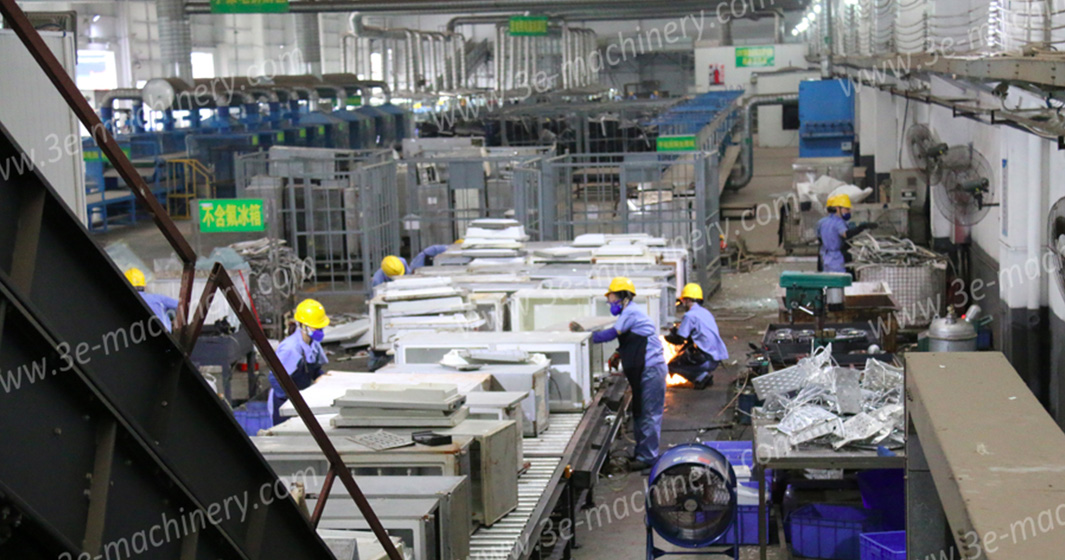 The fridge recycling line is mainly applied to the crushing, separation and recycling of fridges, whose Freon and compressor have been removed. As being controlled by PLC system, the fridge recycling facility is being real-timely monitored. The fridge recycling facility is being real- timely monitored. The features include low energy cost, large capacity, great cost effectiveness, low maintaining cost, good product quality, and so on.
SPECIFICATIONS
MAIN EQUIPMENTSVIDEOS
SYSTEM LAYOUT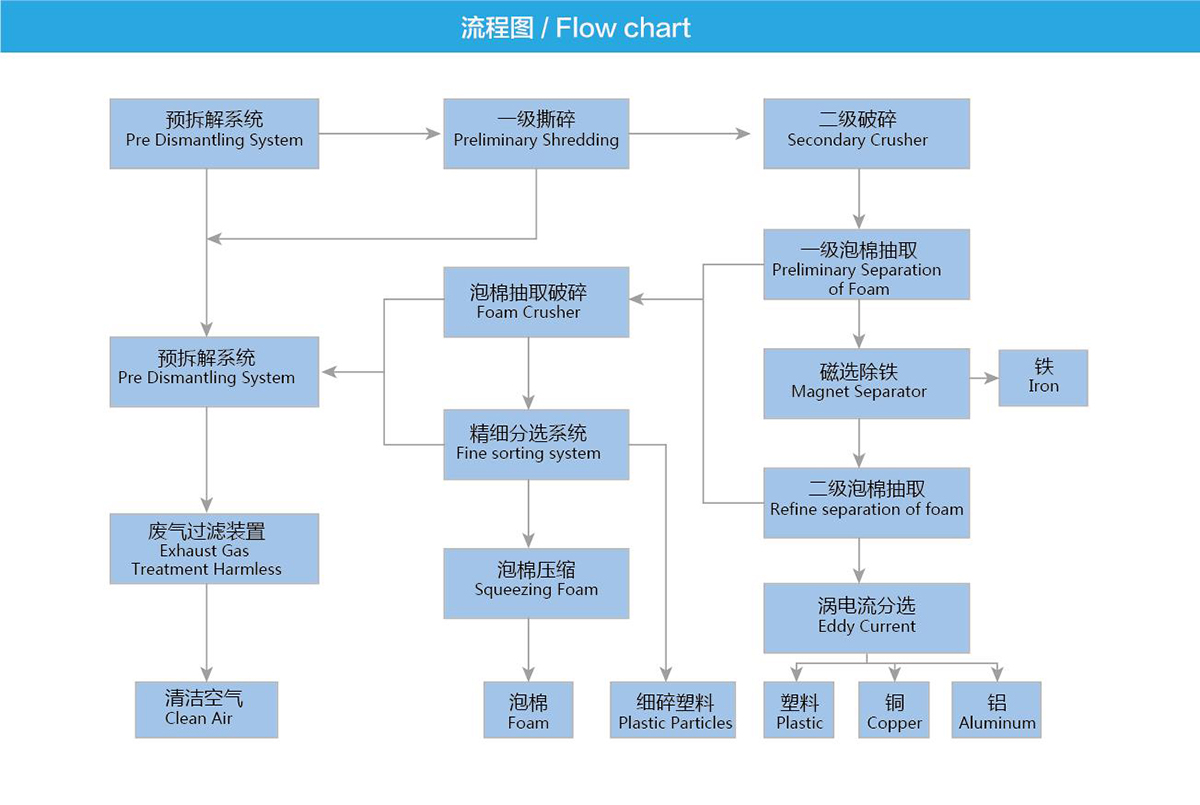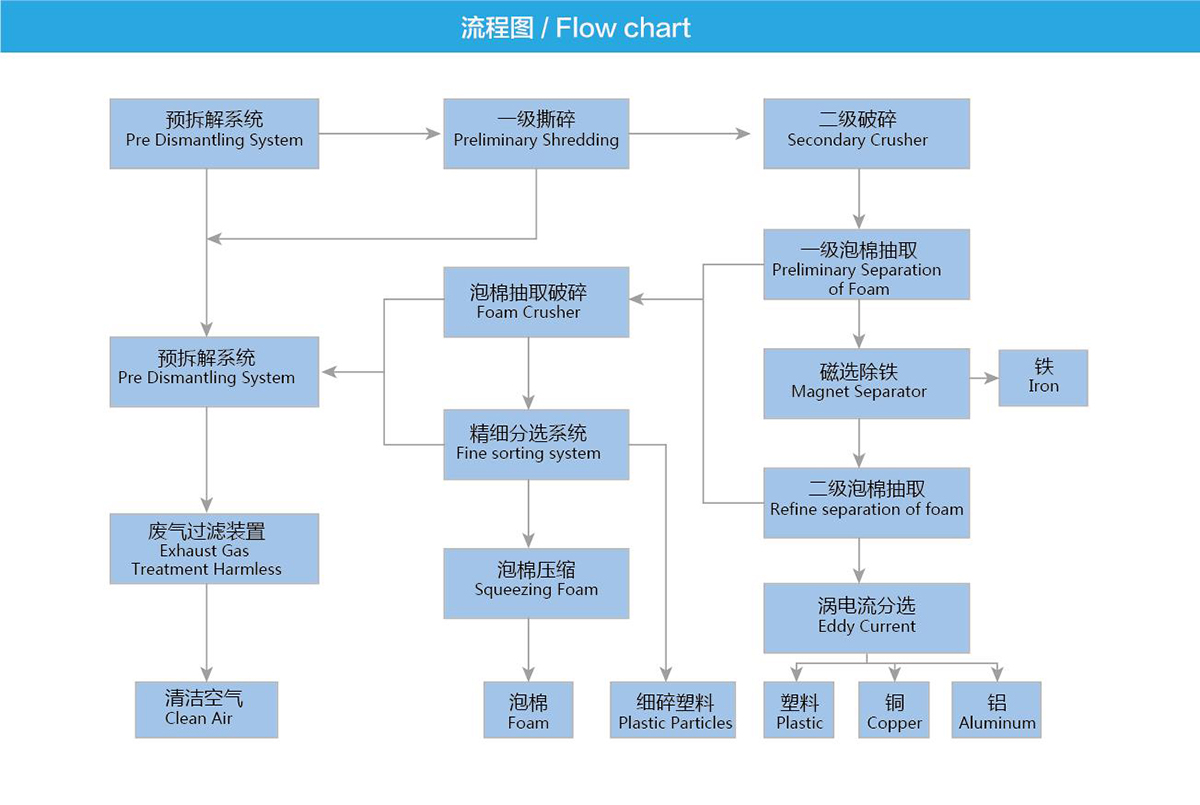 Raw material

Iron

Aluminum

Copper

Plastic

Foam
PRODUCTION PROCESS
Characteristic

Main Parameter:

1.Production Capacity: 50-60 units/Hour
2.80-100 units/Hour




Material sorting effect:

1.metal separation rate>98%
2.plastic separation rate >97%
3.plastic contain foam rate≤1.5%
4.Foam contain plastic rate≤3%

Production safety:

1.Low power consumption. The separation and crushing for foam will be finished by high pressure hammer blower which is self-developed patented equipment
2.metal density ≥0.8T/M3 the output size of crushed material is average and separation effect is good.
3. Foam volume reduction rate 1:8 reduce the volume by hydraulic pressure, the foam will not get heat avoiding fire risk.
4.It is very suitable for recycle large volume refrigerator and freezer and separate most part cables automatically

Patented

Unique design with national patent(ZL 2017 1 0005788.9)

CASES
China Guangdong Fridge Recycling Line

China Shandong Fridge Recycling Line

China Heilongjiang Fridge Recycling Line

China Hebei Fridge Recycling Line

China Jiangxi Refrigerator Recycling Equipment

China Guangdong Waste Fridge Crushing Mahine

China Fridge Recycling Line
MAIN EQUIPMENTSVIDEOS
Preliminary Shredding

The first level of horizontal tearing is carried out for the waste refrigerator disassembled in advance. This tearing machine has the characteristics of low speed, large torque, low noise, etc.

Verical Granulator

The shredded material is further crushed and fully peeled to make its discharge size meet the requirements of fine separation. The service life of vulnerable parts is more than 200000, and the maintenance is convenient. It is convenient to remove foreign matters in the crushing box. The accumulation density of iron powder is more than 0.8t/m3

Z type fine separator system

Air is used as separation medium. Under the action of air flow and gravity, materials are separated according to density. The second separation of foam is carried out to separate thin plastic. Improve plastic recovery.

High pressure hammer blower

It is used to collect and crush foam cotton at the same time, improve the foam reduction effect and facilitate the two separation of plastic from foam. It is a patented product of the company and plays a key role in energy saving in the whole line.

PLC control system

The system adopts Siemens PLC control for effective real-time monitoring, which can effectively control the whole process of the production line and has the characteristics of real-time and easy operation.

Hydraulic foam capacity reducing machine

Foam volume reduction equipment for foam compression block. High compression ratio, no heat, no fire risk.
单轴机WT40150碎塑料托盘